Cebu Pacific (PSE: CEB), the Philippines' leading carrier, strengthens its Clark hub by operating a combined 13 domestic and international destinations from Clark International Airport, making it the largest airline servicing northern and central Luzon.
CEB is getting three additional aircraft which will be based in Clark. These are on top of the 10 new Airbus NEO aircraft that will be delivered in 2023 to expand the airline's entire fleet.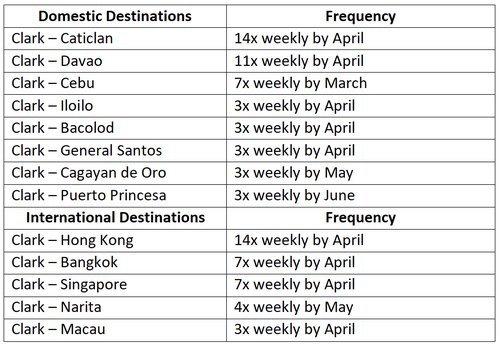 "We are excited to reestablish our presence in such an important gateway that will boost accessibility and connectivity for the traveling public. Furthermore, it allows us to boost our third operating hub in the Philippines that will help generate economic opportunities to support the country's growth agenda," said Xander Lao, Cebu Pacific President and Chief Commercial Officer.
Data from the International Air Transport Association (IATA) show that every job in the air transport industry supports 29 other jobs in tourism, supply chain and other related sectors. This means that with Cebu Pacific hiring at least 140 pilots, cabin crew, and on-ground staff for its Clark hub, more than 4,000 jobs for the locals can be produced.
"Clark International Airport (CRK) and Cebu Pacific are committed to delivering a seamless and hassle-free travel experience to our passengers. With the resumption of pre-pandemic Cebu Pacific flights and the introduction of new routes, travelers may now seamlessly connect international and domestic destinations from this world-class terminal," said Noel Manakil, President and CEO of LIPAD, the private consortium that manages Clark International Airport.
The Department of Transportation (DOTr) lauded Cebu Pacific's initiative to bolster its Clark station.
"This would steer the transport sector, specifically the aviation industry, toward full recovery. The increased connectivity from Clark will also help develop the station as a premiere hub for aviation and international logistics in the Asia-Pacific region," DOTr Secretary Jaime Bautista said.
To encourage more Juans to travel, CEB is launching a special seat sale on all domestic and international destinations that will allow travelers to book their flights to and from Clark from February 27 to March 1, 2023, for as low as PHP1 one-way base fare, exclusive of surcharges and fees. Travel period is from April 21 to October 29, 2023.