Tier-one structure suppliers announced for Overture's wing, fuselage, and empennage; Overture systems configuration revealed; Symphony™ design accelerated with engine architecture unveiled, and initial production partner signed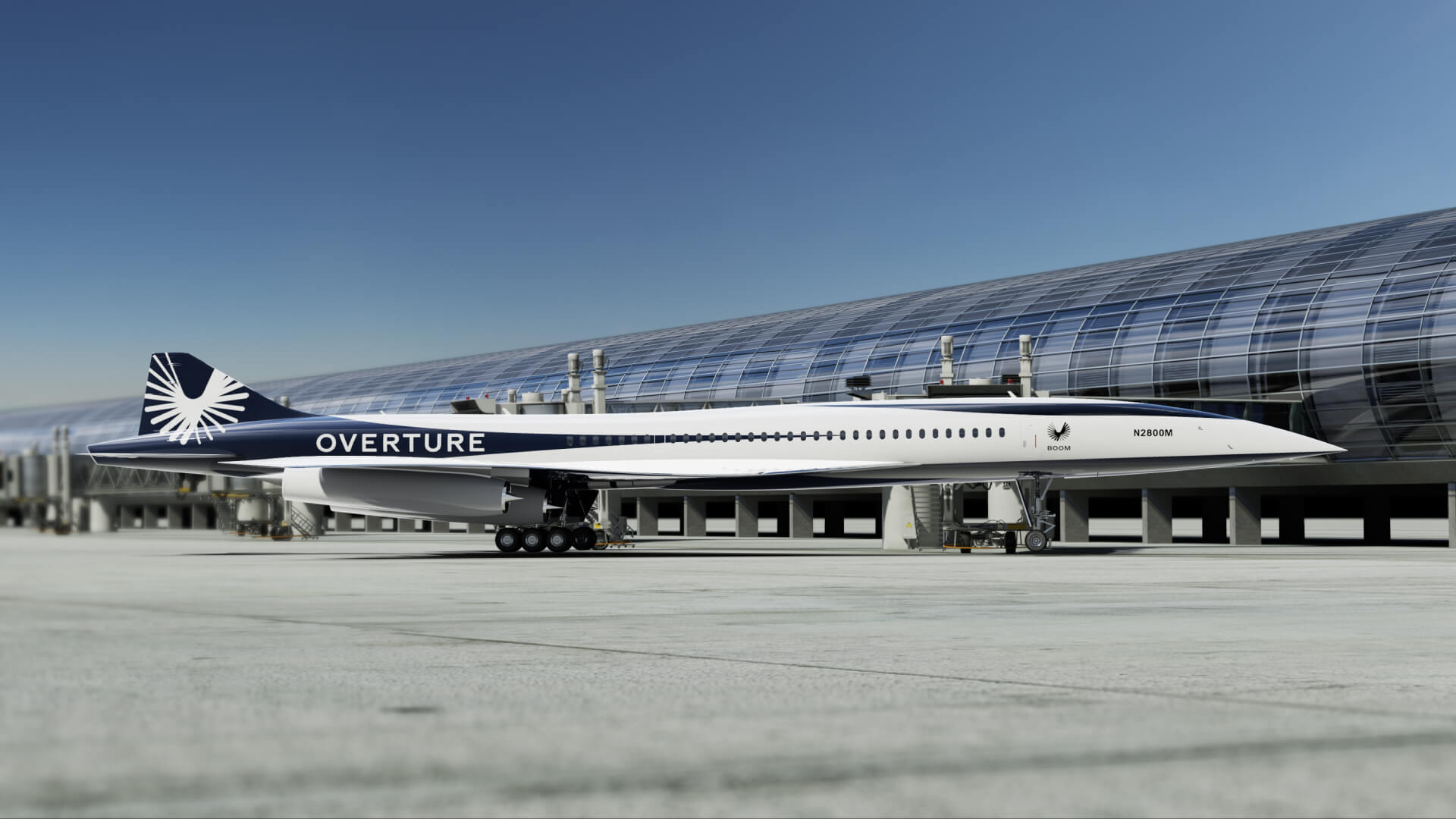 Today at the Paris Air Show, Boom announced significant advances on Overture, the world's fastest airliner — optimized for speed, safety, and sustainability — including milestones for its Symphony™ engine.
Boom signed structural supplier agreements with Aernnova for Overture's wings, Leonardo for the fuselage and wing box, and Aciturri for the empennage.
The three aerospace leaders join Boom's expanding team of global suppliers which includes Safran Landing Systems, Eaton, Collins Aerospace, Flight Safety International, FTT, GE Additive, and StandardAero. Boom also revealed today, for the first time, Overture's systems configuration, showing the next level of technical detail as the aircraft program progresses toward production.
The schematics highlight key systems inside Overture, including avionics, flight controls, hydraulics, fuel systems and landing gear — all designed and developed for optimal performance, efficiency, and safety.
Among the major systems revealed, Overture's fuel systems provide center of gravity control during subsonic and supersonic operations, enable sustainable aviation fuel (SAF) compatibility and supply fuel to the engines. Triple-redundant hydraulic systems provide reliable power for flight controls and mechanical systems, and Overture's landing gear is compatible with international airport runways and taxiways — designed for takeoff and landing on over 600 routes around the world.
The all-composite aerostructures support Overture's contoured fuselage and gull wings for enhanced aerodynamic efficiency. Key systems leverage certified technologies, reducing program risk and maturing Overture through aircraft systems development.
Aernnova selected as Overture wing supplier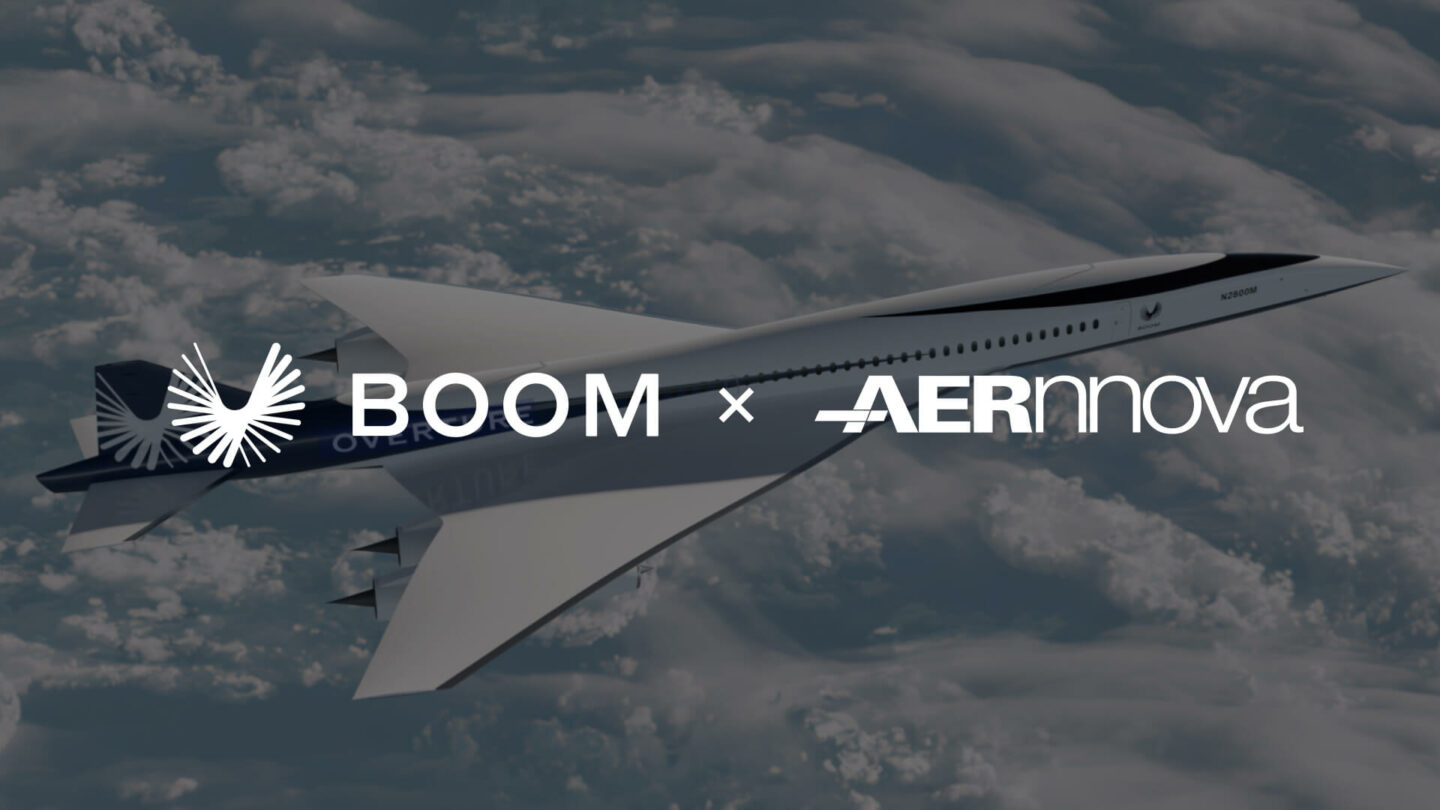 Spain-based Aernnova, one of the world's largest tier-one aerospace suppliers, will design and develop the wing structure for Overture. Overture's gull wings are shaped to enhance supersonic performance as well as improve subsonic and transonic handling. The wings are structurally thinner than typical subsonic wings to reduce drag, allowing the aircraft to travel efficiently at higher speeds.
"Overture will be an extraordinary opportunity to provide our expertise in the design and development of aerostructures for the first sustainable supersonic aircraft," said Ricardo Chocarro, CEO of Aernnova. "We're thrilled to partner with Boom as its wing supplier and be part of the world-class network of suppliers supporting Overture's production."
Leonardo selected as primary engineering lead for fuselage structural components integration, design and build partner for fuselage sections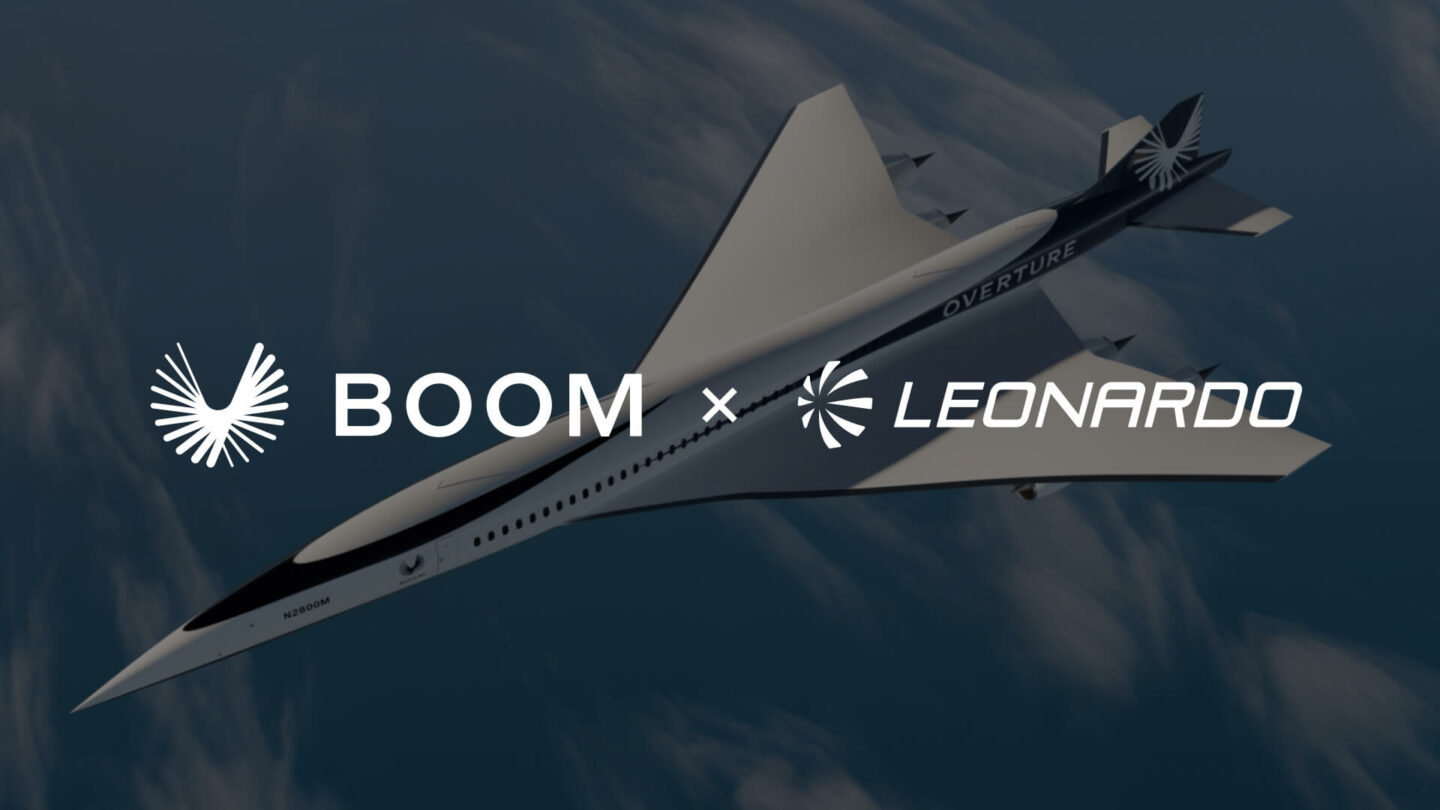 With long-standing leadership in structural composite components for commercial aircraft, Italian company Leonardo will support Overture as the primary engineering lead for major fuselage structural components. Leonardo was also selected as design and build partner for two major fuselage sections of Overture, including the wingbox. The proprietary design of Overture's contoured fuselage has a larger diameter toward the front of the aircraft and a smaller diameter toward the rear. Boom applied this design technique to minimize wave-drag and maximize fuel efficiency at supersonic speeds.
"Leonardo has played an integral role in shaping the success and future of the aviation industry," said Stefano Bortoli, Leonardo's Aerostructures Division Managing Director. "We will build on that tradition and believe in Boom's continued, and impressive, progress toward bringing sustainable supersonic air travel to the skies."
Aciturri selected as Overture empennage supplier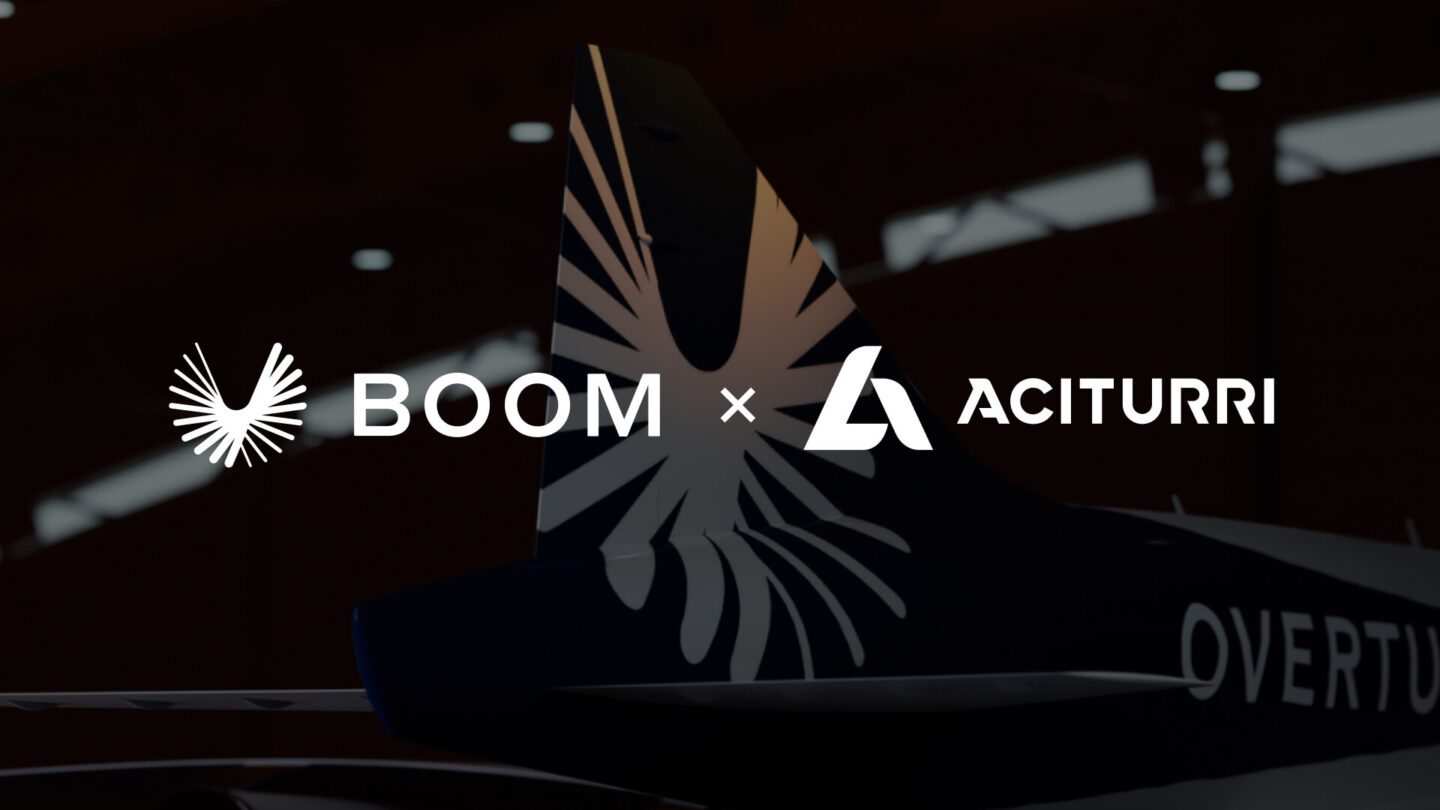 Boom selected Spain-based Aciturri, a tier-one leader across aerostructures and aeroengines components, to design and develop the empennage for Overture. Overture's empennage features a differentiated horizontal stabilizer that allows for greater control at subsonic speeds—particularly takeoff and landing.
"Overture is a generation-defining project," said Alvaro Fernandez Baragaño, CEO of Aciturri. "We are bringing decades of aerostructures and aeroengines expertise to the future of sustainable supersonic flight with Boom."
Symphony engine hits new program milestones
Symphony is Overture's propulsion system optimized for 100% sustainable aviation fuel (SAF).
Boom shared the engine architecture for Symphony and additional key specifications, and also unveiled a 3D-printed ⅓ scale design model. The engine's bespoke design is optimized for sustainable supersonic flight and is designed to deliver 25% more time on wing and provide 10% operating cost savings to airline customers. This marks an important step in Symphony's development since its announcement in December 2022.
"Symphony is the key that will unlock Overture and make it a commercial and enduring success," said Ric Parker, Chair of Singapore Aerospace Programme & former Rolls-Royce CTO. "Boom's strategy with Symphony is very innovative. Their approach makes it compelling for top-tier suppliers to seek the opportunity to contribute their expertise and capabilities to this exciting, breakthrough, supersonic engine program."
Additionally, we announced an expanded partnership with FTT to develop the initial production units for ground test, flight test and certification. We will leverage FTT's considerable experience with supersonic engines, ensuring seamless continuity as Symphony transitions from design to production. Boom has identified Jupiter, Florida, as the base for initial production.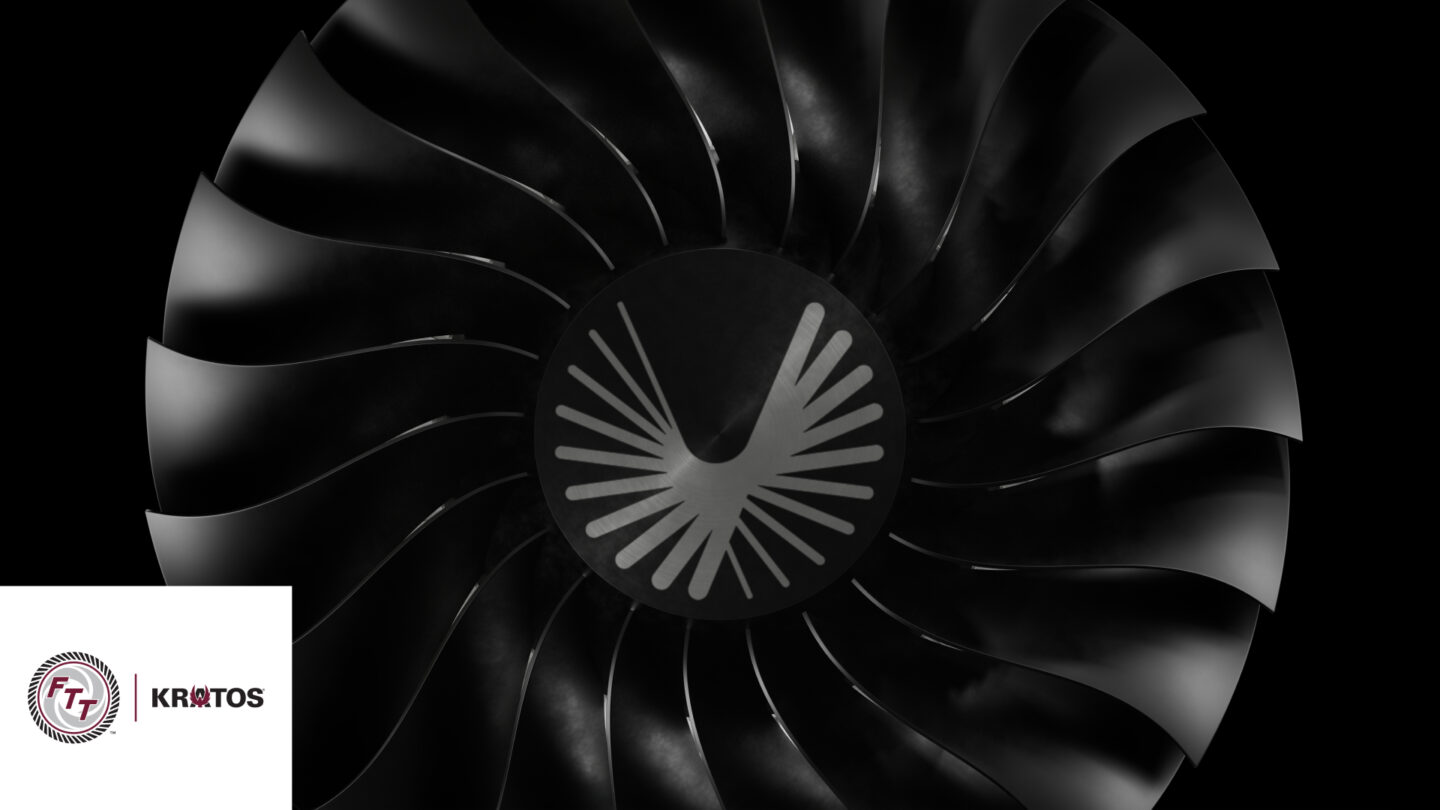 "We believe there is large market potential for both Overture and Symphony, which will be transformational for the future of high speed travel," said Stacey Rock, President of FTT. "We've already made considerable progress on Symphony, and we're thrilled to expand our role to include the initial production of several dozen units for flight tests and certification."
Symphony technical specifications
Two-spool, medium-bypass turbofan engine, no afterburner
35,000 lb thrust
Optimized for 100% sustainable aviation fuel (SAF)
Single-stage 72" fan
Air-cooled cooled, multi-stage turbine
Additive manufacturing enables lightweight, low part count, and reduced assembly costs
FAA Part 33 and EASA CS 33 compliant
ICAO Chapter 14 noise levels
Low-pressure compressor stages: 3
High-pressure compressor stages: 6
High-pressure turbine stages: 1
Low-pressure turbine stages: 3
Boom and Northrop Grumman progress collaboration
Also announced at the air show, Boom will support Northrop Grumman on a NASA contract to deliver solutions for the "High-Speed Endo-atmospheric Commercial Vehicle Conceptual Design Study and Technology Roadmaps Development" program.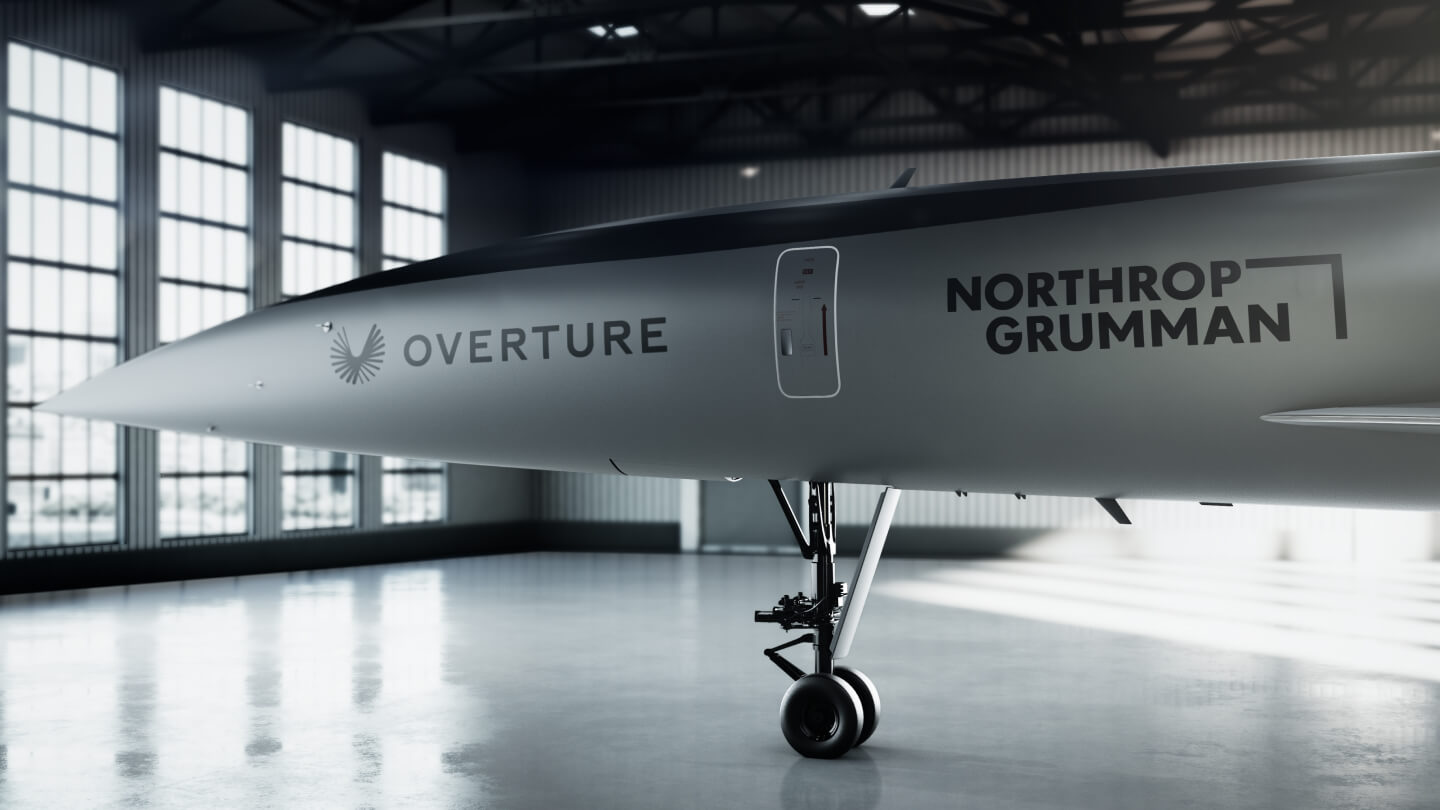 The study for future research and development will identify necessary technologies to continue the advancement of commercial supersonic flight efficiency. Initial technologies to be explored include mechanisms to increase aircraft efficiency and reduce emissions, net CO2 reduction, net non-CO2 reduction, and climate feedback loops.
Boom and Northrop Grumman are also continuing collaboration on a special mission variant of Overture, after ongoing identification and investigation of military use cases that will benefit the Department of Defense.
Construction Underway at Overture Facilities
Overture Superfactory
Overture's final assembly line is taking shape as construction progress continues with the pouring the foundation and erecting the steel trusses and beams that will serve as the backbone of the Overture Superfactory at the Piedmont Triad International Airport in Greensboro, North Carolina.
Boom is building the campus in sections, focusing first on the final assembly line, which is roughly 150,000 square feet with an additional 24,000 square feet of office space.
The Iron Bird
Meanwhile, work continues in Centennial, Colorado, near Boom headquarters, on the 70,000-square foot Iron Bird. Current work involves digging pits to house the Overture landing gear assemblies and building the iron bird substructure to support the engineering test lab.
Learn more
Continue reading about Boom's mission to achieve sustainable supersonic flight on these pages: