This next phase of Bonza's growth will see 70 new flights per week and almost 700,000 additional passenger seats a year into and out of Gold Coast Airport.
Bonza will operate two aircraft from Gold Coast Airport in time for summer holidays
Eleven routes will operate to existing Bonza destinations as the airline focuses on depth of network
Eight of the 11 routes are not served by any other airline
Flights from the Gold Coast will go on sale soon and those signed up in the Fly Bonza app will be first to know
First flights from the Gold Coast to take off progressively from November
Bonza has today revealed its third base will be Gold Coast Airport* with two aircraft confirmed to operate from the iconic holiday spot to 11 existing Bonza destinations: Albury, Bundaberg, Cairns, Gladstone, Mackay, Melbourne Avalon, Melbourne Tullamarine, Mildura, Rockhampton, Townsville and the Whitsunday Coast.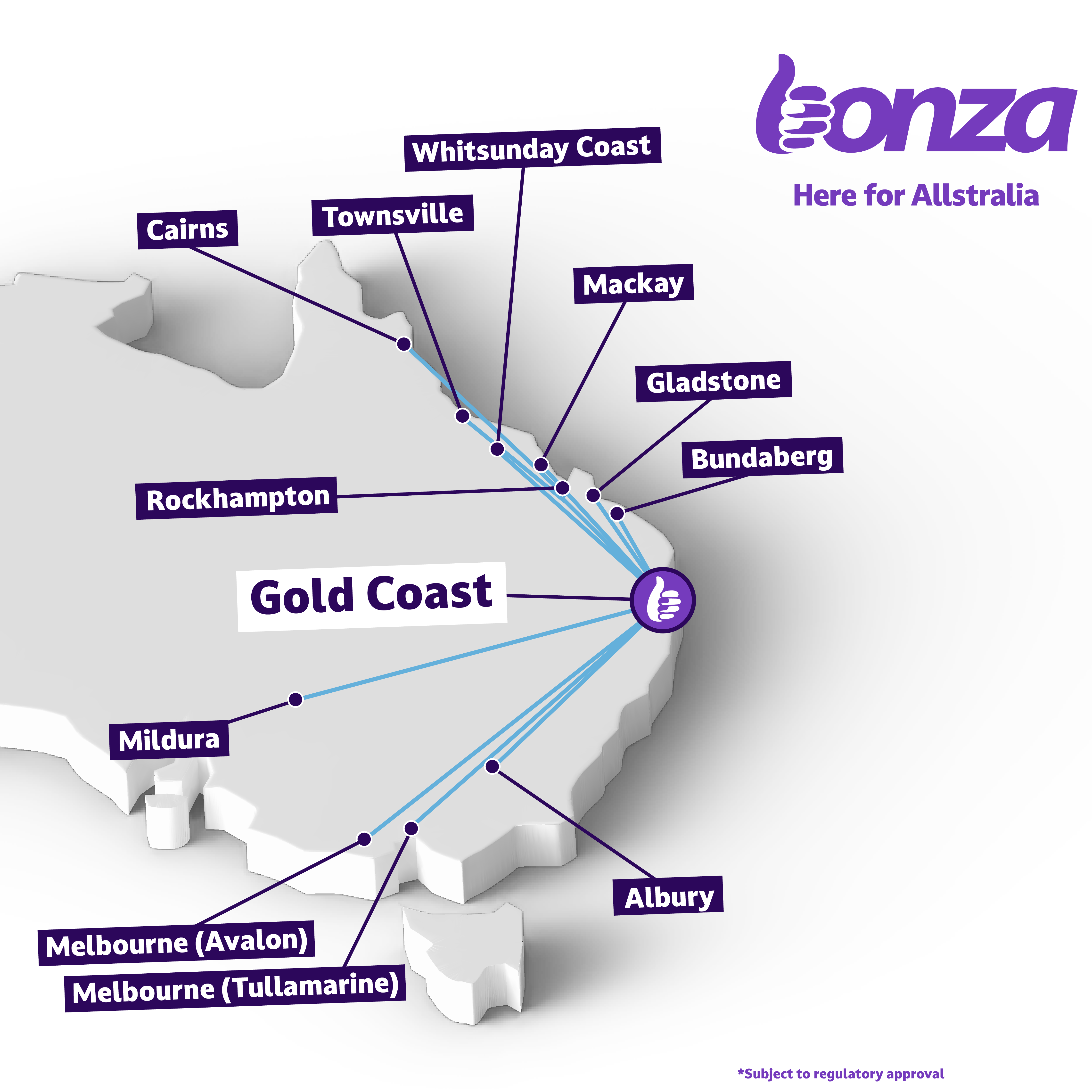 Pictured: Bonza's Gold Coast route map, subject to regulatory approval
Flights will be on sale very soon, through the airline's app, which is the only place to book direct. Starting fares will range from $49 to $79 per person one way. Travellers are urged to sign up in the Fly Bonza app today to be the first to know when the new routes are on sale.
"Today's announcement is about creating more depth in our network by connecting existing Bonza destinations with the Gold Coast and also the gateway from there to Northern NSW. It is a huge boost for the economy and allows people in our existing destinations the opportunity to book an affordable flight to Gold Coast Airport and take a much-deserved holiday or long-awaited visit to friends and family," said Tim Jordan, CEO of Bonza.
"New routes from the Gold Coast also mean locals from South Brisbane down to Northern NSW regions, like Ballina and Byron Bay, have the chance to explore their own backyard with low-cost flights to regional locations like Mildura, Bundy and Townsville to name a few," he added.
The airline says there will be additional and new destinations that will connect with the Gold Coast and those will be revealed when the time is right: "We'll be adding new destinations to our route map that will fly from the Gold Coast and we continue to welcome conversations with airports around the country as we fulfil our mission to connect communities. Our focus continues to be on unserved and underserved markets that we know would benefit from low cost flights," said Jordan.
This next phase of Bonza's growth will see 70 new flights per week and almost 700,000 additional passenger seats a year into and out of Gold Coast Airport. It is a show of support for not only Queensland but the 11 existing Bonza destinations that are seeing record growth such as Avalon and Albury.
Ultimately, the announcement will create more than 100 direct jobs, with recruitment to start imminently. Initially, Bonza will partner with an airline wet lease provider to enable families to holiday and connect with each other over Christmas and peak school holidays at a time when global aircraft supply is challenged.
Queensland Airports Limited CEO Amelia Evans said the new partnership between Gold Coast Airport and Bonza will provide a big boost to the local economy.
"This is a significant announcement, the commencement of these new routes will deliver more than one hundred million dollars in economic benefit to this region each year," Ms Evans said.
"Not only will Bonza bring more tourists to the Gold Coast and Northern New South Wales region, giving our destination an opportunity to showcase our region, it will also open up connections for our locals to connect with loved ones across regional Australia," Ms Evans said.
"Many of these routes are new to our network and they're also very competitively priced which is great news for our customers and for visitors to our region," she said.
Tim Jordan said recruitment for roles at the Gold Coast will commence soon.
"Our new base means pilots and cabin crew who live here can come home after a day's flying and enjoy the lifestyle that the region has to offer.
"We also know that our customers love to support local as much as we do and an additional 11 routes on the Bonza map will mean even more positive demand for products on our all Aussie menu. Many of our menu providers have seen growth in their own businesses with some hiring new staff and taking out larger premises as a direct result of our partnership with them," added Jordan.
He went on to say that Bonza has been working closely with Queensland Airports Limited for some time as they operate Townsville Airport where Bonza flies to from the Sunshine Coast, Rockhampton and Toowoomba Wellcamp.
"We thank Gold Coast Airport, and the broader Queensland Airports Limited team, for their partnership in bringing more purple to our skies," he said.
*Subject to regulatory approval.